The founders of the Mind Changer Academy
About us
 In 2018 we understood that the world has changed. Irreversibly. And the changes touch all the fields of our lives. But we also found out that there are incredibly inspiring people around the world who have found acknowledgeable ways of thinking, methods, and tools which help us not only to survive, yet be successful in the new world, the digital age. We invited many of them for dialogues in order to share their experiences with as many people in the world as possible. We made so far over 130 dialogues dealing with gaining success in the new world. And we keep inviting people from all over the world who inspire our Mind Changer participants and make them literally Mind Changers. Every year we will provide the Mind Changer Academy with around 60 of the hottest ideas and thoughts for tomorrow´s world. Like this, the Relational Journey goes on and touches more and more people every day. The master minds of the Mind Changer Academy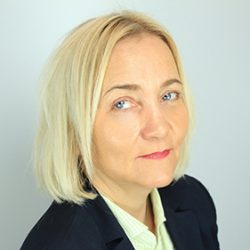 Dr. Sonja Radatz
Founder of the Relational Philosophy®. She has been the director of the IRBW Institute for Relational Consulting and Learning in Vienna, Schönbrunn Palace, since 1998 and is the director of the Mind Changer Academy, which she started to develop in 2018 together with Maxim Zalesskiy. At the Mind Changer Academy she is responsible for the content and design of each individual Mind Changer dialogue with practically all the lecturers. And of course, she has also given some trend-setting lectures for the Mind Changer Academy herself. The author of 19 books helps companies, non-profit organizations, executives, sales and HR managers with her controversial management approach to build and live their optimal future. Dr. Sonja Radatz is an internationally renowned keynote speaker and guest lecturer at several universities. Furthermore, she is the editor of the magazine LO Lernende Organisation, the Relational Journal of Management and Organization. In 2003 she was awarded the German Prize for Social and Organizational Cybernetics for her life's achievements.
Maxim Zalesskiy
After graduating from law university and holding the managing director´s position in different firms, he gained several years of experience in working with people, started to build up the Relational Theory and Practice of family and relationship dynamics between couples and in personal issues. He coaches couples, parents, families and people with personal issues , helping them to live the life they deserve. The development of his Ascending Theory has received great international attention. Maxim Zalesskiy coaches people in English and Russian. 
In 2018 Maxim Zalesskiy started to build up the Mind Changer Academy together with Dr. Sonja Radatz and is now leading it together with her. He is co-responsible for the conceptual idea, the format and design and he leads the technical organisation of the Academy.